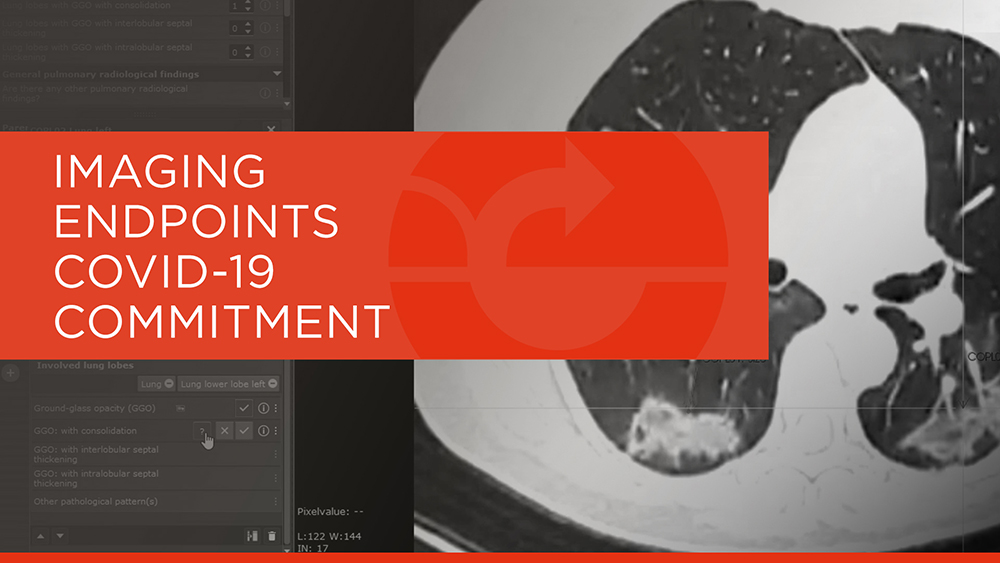 Imaging Endpoints COVID-19 Continuing Commitment
Since the beginning of and throughout the COVID-19 pandemic, Imaging Endpoints has been implementing the best practices to help ensure that our staff, our clients, their patients, and our business are protected.
Business Continuity and Security: We implemented an Imaging Endpoints Wellness Policy with strict protections for our workforce and converted our workforce to work from home in March of 2020. We have re-opened our eight global offices on a primarily voluntary basis, favoring the protection of our employees and recognizing the importance of maintaining our high employee-retention rates. Imaging Endpoints' approach to remote work from home environments is industry-leading, offering its employees an enhanced work-life balance while ensuring oversight and communication optimization.
Throughout the pandemic, we have confirmed that we have perhaps the most modern and unique cloud-based infrastructure in the imaging CRO industry. Our global workforce is able to perform work from home with the same reliability and efficiency as when in the office. Furthermore, we monitor and ensure that all our work from home staff meets our requirements for internet security, bandwidth, latency and jitter. During this pandemic, cyber-attacks across the globe have increased dramatically, increasing the cyber threat for every company. Imaging Endpoints' cyber security was already state of the art, as confirmed by a recent PEN test, but in recognition of these unprecedented times, Imaging Endpoints has commenced a series of comprehensive cyber security upgrades, which put Imaging Endpoints at the forefront as an industry leader with respect to cyber security.
For communications, our phone infrastructure enables us to route calls to our office extension numbers in the exact same manner and reliability for home staff as when they are in the office. And we have daily team conference calls and other tools to ensure close communication and coordination, including dedicated programs to provide for employee socialization. Our processes ensure that all lines of communication are working optimally so that information flow is not disturbed or delayed.
Very few job responsibilities are required to occur in our offices, the primary one being the processing of the small minority of images we receive on CD rather than electronically. For CDs, we have a dedicated, rotating staff that continues to work in-office.
We have continued to grow our global presence, opening additional offices in Europe and in Shanghai, China. Our growth has been intentional, organic, and thoughtful, taking into consideration the best way to service our global portfolio of clients while navigating the global pandemic. Through these efforts, we have grown our position as the largest oncology-focused imaging CRO globally, without compromising the health and safety of our employees or those we serve.
Prioritizing Our People: Throughout this pandemic, Imaging Endpoints has prioritized the health and safety of its employees and clients. This has been accomplished, in part, through the implementation of a comprehensive, but secure, work from home environment and re-opening offices on a primarily voluntary basis. But it has extended well beyond that and has included supporting vaccination efforts, distributing vaccine, and implementing a policy requiring vaccination for return to office to the extent allowed by law. Additionally, Imaging Endpoints has supported its employees through flexible leave policies and financial support, and the landmark launching of Caring Endpoints (see https://imagingendpoints.com/caring-endpoints/) helping its global workforce, their families, and the communities we serve.
Contingency Plans: Imaging Endpoints stays abreast of the applicable FDA guidance, first promulgated in March of 2020, and continuously updated by the FDA. Based on the recommendations from "FDA Guidance on Conduct of Clinical Trials of Medical Products During the COVID-19 Public Health Emergency" we have prepared and deployed contingency plans as appropriate and we work closely with our Sponsors if/as needed on these measures. As an example, we developed procedures to allow clinical trial subjects to obtain imaging at alternate sites if needed and then gained Sponsor pre-approval as applicable. We initially anticipated an increase in missing time points on some trials in early/mid-2020 and deployed additional query procedures. We also developed procedures to ensure that our readers and staff are backed-up in the event of illness, and we have continued to hire additional staff and readers during the pandemic.
Ready to Help: We will continue to serve our Sponsors and protect their interests in the same focused, diligent, customized and results-oriented manner. And, we are available and poised to assist with any new matters that arise. Please let us know if we can help in any way.
We are deeply grateful for our Sponsor's trust and confidence. Please don't hesitate to contact any of our staff and executives, or our Executive Vice President, Jatinder Kaur, with any questions.