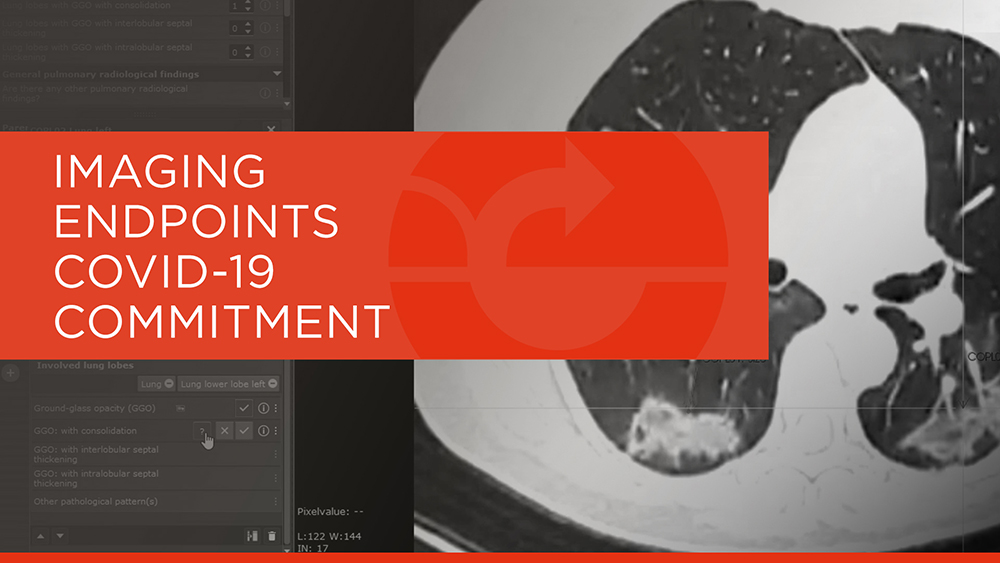 Imaging Endpoints COVID-19 Commitment
Imaging Endpoints is well prepared for the business implications of the COVID-19 pandemic and is implementing best practices to ensure, as best we can, that our staff, our clients, their patients, and our business are protected.
Business Continuity: We have implemented an Imaging Endpoints Wellness Policy with strict protections for our workforce and we have moved most of our staff to work from home. We believe that we may have the most modern and unique cloud-based infrastructure in the iCRO industry and coupled with our business continuity planning, our global workforce (including our 100 physician readers) is able to work from home with the same reliability and efficiency as when in the office. Furthermore, we monitor and ensure that all our work from home staff meets our requirements for internet security, bandwidth, latency and jitter. For communications, our phone infrastructure enables us to route calls to our office extension numbers in the exact same manner and reliability for home staff as when they are in the office. And we have daily team conference calls and other tools to ensure close communication and coordination. Our processes ensure that all lines of communication are working so that information flow is not disturbed or delayed.
Very few job responsibilities are required to occur in our offices, the primary one being the processing of the small minority of images we receive on CD rather than electronically. For CDs, we have a dedicated, rotating staff that will continue to work in-office and we have implemented a procedure to disinfect CDs upon receipt to allow subsequent image processing. We anticipate that disinfection process to be the only area of potential delay – which we expect to be limited to only one or two days. If needed, we have a procedure to deploy that enables even these activities to continue under Shelter in Place conditions.
Contingency Plans: Based on the recommendations from "FDA's Guidance on Conduct of Clinical Trials of Medical Products during COVID-19 Pandemic, Guidance for Industry, Investigators, and Institutional Review Boards, March 2020" we have prepared contingency plans as appropriate and will be working with our Sponsors if/as needed on these measures. As an example, we have developed procedures to allow clinical trial subjects to obtain imaging at alternate sites if needed and we will gain Sponsor pre-approval if this situation should arise. We are anticipating an increase in missing time points on some trials and are prepared to implement additional query procedures. We have also developed procedures to ensure that our readers and staff are backed-up in the event of illness, and we continue to hire additional staff and readers during this crisis.
COVID-19 Analysis: In addition, we are able to offer our Mint Coronavirus specific image analysis platform with advanced analysis capabilities that meet all regulatory requirements for our Sponsors who would benefit from this type of immediately available technology. We are preparing to provide complementary COVID-19 analysis services on incoming CTs if of interest. Imaging Endpoints, as a global radiomics leader, is also engaged in radiomic research to improve the sensitivity and specificity of COVID-19 detection on CT, while risk stratifying those patients that are likely to progress and require a ventilator.
Ready to Help: We will continue to serve our Sponsors and protect their interests in the same focused, diligent, customized and results-oriented manner. And, we are available and poised to assist with any new matters that arise during these turbulent times. Please let us know if we can help in any way during this time of need.
We are here to help and are deeply grateful for our Sponsor's trust and confidence. Please don't hesitate to contact any of our staff, our Founder/CMO Ronald Korn, MD, Ph.D. or me with any questions.
Respectfully,
Doug Dean Burkett, Ph.D.
Chief Executive Officer and President