COVID-19 CD8+ Analysis
Current clinical trials are underway to evaluate the most appropriate medical interventions that will prevent and/or treat the severe hallmarks of COVID-19, namely multi-organ failure of the lungs, heart, kidneys and other organs, while work continues toward development of effective vaccines. There is growing evidence that organ-related injuries from this virus may be mediated by a cytokine release storm with resultant depression in CD8+ and CD4+ T cells in the damaged organs.
Imaging Endpoints has partnered in the development of ImaginAb's CD8+ and CD4+ cell-specific PET tracers that have shown promising results in preventative and treatment-related pre-clinical studies, as well as in a first in human, phase I trial with 89Zr-Df-IAB22M2C, a CD8+ PET tracer that has shown the capability to detect areas of CD8+ uptake on whole-body images (see below).
Since CD8+ cells may play a very important role in mounting an effective treatment response and immunity against SARS-CoV-2, ImaginAb's 89Zr-CD8+ cell targeting agent has the potential to provide a unique, non-invasive approach to assist in drug and vaccine development.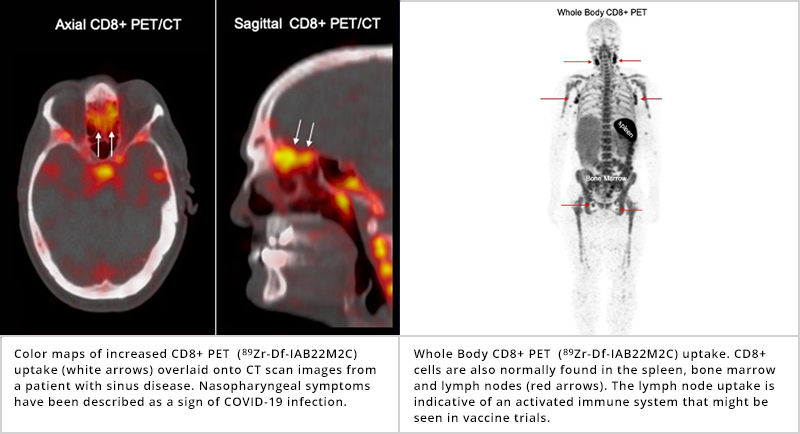 More on ImaginAb's PET imaging "Minibody" Technology:
Minibodies are engineered antibody fragments that bind specifically to a cellular target such as CD8 and for imaging purposes are linked to a radioisotope, such as zirconium89 (89Zr) which is visualized during Positron Emission Tomography (PET) scanning achieving high contrast at an early stage.
Minibodies are used as imaging agents enabling non-invasive, safe, rapid and detailed illumination of targeted cells. Patients are infused with ImaginAb's Minibody imaging agents prior to a routine full-body scan with PET, fitting in easily with the workflow.
ImaginAb's technology produces images that provide a full-body view of disease activity and drug response, offering important insights at critical points during patient care and drug development.
For more information, contact Imaging Endpoints at info@imagingendpoints.com